A great Indian Savoury that will be relished by all
Ingredients
Serves 5 to 6
Spinach Fritters:
Spinach leaves 25-30
Rice flour 1/2 cup
Gram Flour 1 cup
Red Chilli Powder 1 tsp
Asafoetida a pinch
Soda Bicarbonate 1/4 tsp
Salt to taste
Sweet & Sour Chutney:
Dates 10 to 12
Tamarind concentrate 2 tsp
Jaggery / Sugar 2 tbsp
Water 1/2 cup
Green Chutney:
Coriander leaves 1 cup
Green Chilli 1
Lime a dash
Yogurt 1 tbsp
Salt to taste
Chaat:
Mix 2 cups of beaten Yogurt and 1 tsp of Chaat Masala or Cumin Powder
Preparation
Method for fritters:
1) Destalk and wash the spinach leaves. Drain the water and keep aside.
2) Prepare the batter for the fritters by adding the rest of the ingredients and enough water to make a thin paste.
3) Heat oil. Dip the spinach leaves in the batter and fry till golden brown. Drain excess oil on a kitchen tissue.
Method for Sweet & Sour Chutney:
1) Deseed the dates. Combine the dates, jaggery & water in a bowl. Microwave in full power for 2 to 3 mins. Remove the bowl from the microwave & cool.
2) Whizz the date-jaggery mixture with tamarind paste in a blender. Pour this chutney in a bowl and keep aside.
Method for Green Chutney:
1) Whizz all the ingredients for the green chutney in a blender.
2) Pour this chutney into a bowl and keep aside.
Assemble
Method
1) Place 5 to 6 spinach fritters on a plate for each serve.
2) Pour a dollop of Chaat (beaten yogurt and cumin powder), sweet & sour and green chutney on each fritter. Enjoy!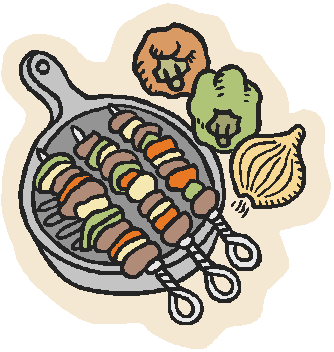 You will need:
Chicken Breasts 4
Thick Yogurt 1 cup
Ginger & Garlic paste 1 tsp each
Red Tandoori Colour a pinch
Garam Masala Powder 3/4 tsp
Red Chilli Powder 3/4 tsp
Juice of 1/2 a lime
Oil 2 tbsp
Salt to taste
For Garnishing:
Chopped coriander leaves
Onion rings
Thin Lime slices
Method:
1) Clean and cut each chicken breast piece into cubes of 6. Keep aside.
2) Mix the rest of the ingredients (including the oil) in a bowl. Add the chicken pieces. Mix well
3) Cover and leave the chicken pieces to marinate for 2 to 3 hours (preferably overnight).
4) Thread the chicken pieces into metal skewers (approx. 6 pieces in each).
5) Grill them under medium heat for 10 - 15mins on either side (or until well done).
6) Garnish with coriander leaves, onion rings and lime slices.
7) Serve hot with coriander dip.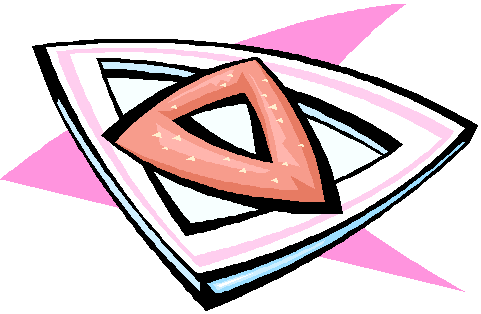 You will need:
Bread Slices 10
Garlic Cloves 2
Any Dry herb 2 tsp (basil, oregano, etc)
Butter 100 grms
Method:
1) Crush the garlic. Beat the butter til smooth. Mix in the garlic and herb.
2) Remove the crusts from the sides of bread slices.
3) Spread the butter mixture on each slice.
4) Cut each slice of bread diagonally into 4 triangles.
5) Grill the slices until lightly toasted.
6) Ideally served with DIPS.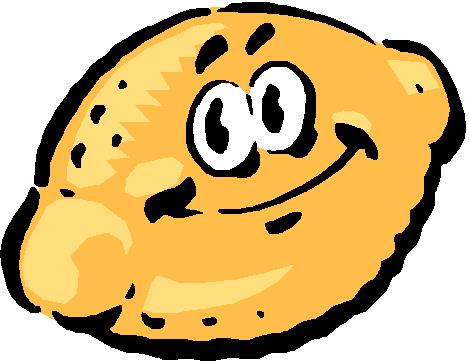 You will need:
Potatoes 1 kg
Cornflour 2 tsp
Frozen Peas 150 grms
Onion 1
Cumin Seeds 1 tsp
Green Chillies 2 (finely chopped)
Lime 1/4
Coriander Leaves 1/4 cup (finely chopped)
Eggs (beaten) 2
Breadcrumbs for coating
Salt to taste
Oil for frying
Method:
1) Boil and mash the potatoes. Add the cornflour and salt and keep aside.
2) Boil the peas till tender. Drain off excess water and mash them.
3) In a Karai, heat oil Add the cumin seeds, when the stop spluttering, add the onions and sauté them. Now add the chopped coriander, green chillies and juice of 1/4 Lime. Fry for 1 to 2 mins.
4) Add the mashed peas. Season with salt.
5) Now divide the mashed potatoes and the pea-mixture into equal proportions.
6) Take one portion of the potato-mixture (covering) and flatten it on the palm of your hand. Place one portion of the pea-mixture in the centre. Cover the pea-mixture by bringing the sides of the covering together. Shape into a cutlet. . Repeat with the remaining portions
7) Dip the cutlets into beaten eggs, coat with breadcrumbs. Keep aside.
8) Heat oil in a Karai. Fry the cutlets till golden brown. Serve hot. with ketchup.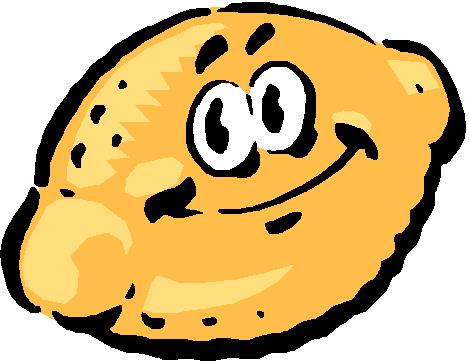 Makes 24 mini parcels
For the Parcels you will need:
Filo Pastry Sheets 270g
Melted butter
Sesame seeds 2 tsp
For the Filling you will need:
Paneer / Cottage Cheese 1 cup
Spring Onion 1
Green Chilli 1
Frozen Peas 1/2 cup
Cumin Powder 1/4 tsp
Oil 1 tbsp
Salt to taste
Method:
1) Crumble the paneer with your hands and keep aside. Pour hot water on the peas and leave for 5 mins. Drain off the water and keep aside.
2) Finely chop the spring onion and green chilli. Keep aside.
3) Heat oil in a non-stick vessel. Sauté the spring onion for 1 min add the green chilli, peas, cumin powder and salt to taste. Mix well and turn off the heat.
4) Divide the filling into 24 portions
5) Defrost the filo pastry. Carefully cut each sheet into 6 equal sized squares. Brush 3 sheets with melted butter. Lay them at different angles. Place one portion of the filling in the centre.
6) Bring the ends of the sheets together to make a small parcel.
7) Brush the parcel with a bit of melted butter and sprinkle a few sesame seeds over it.
8) Repeat with the rest of the pastry sheets and filling.
9) Bake the parcels for 15 mins at 180 degree centigrade.
Serve hot with ketchup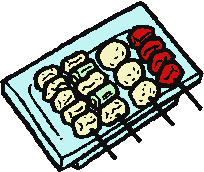 Serves 6-8
You will need:
Boneless Lamb meat 750 grms
Thick Yogurt 1 cup
Ginger-garlic paste 1 tsp
Turmeric 1/2 tsp
Coriander leaves (chopped) 2 tbsp
Lemon 1/2
Cardamoms 5
Cumin seeds 1 tsp
Coriander seeds 1 tbsp
Cinnamon stick 1 "
Oil 3 tbsp
Salt to taste
Garnishing:
Onion rings and chopped coriander leaves
Method:
1) Wash and drain the meat and dice into medium sized cubes. Place the meat in a large mixing bowl.. Add the ginger-garlic paste, yogurt, turmeric, coriander leaves, juice of half a lemon, oil and salt.
2) Dry roast the cardomoms, cumin seeds, coriander seeds and cinnamon. Cool and dry grind these ingredients. Add to this to the rest of the ingredients in the bowl.
3) Cover the bowl with a cling film and marinate the meat overnight or 6-8 hours before cooking time..
4) Preheat the grill on high. Thread the meat onto skewers. Place the skewers under the grill and cook for 10-15 mins on either sides. Brush the skewered meat with oil from time to time.
5) Garnish with a few onions rings and chopped coriander leaves.
Serve hot .
Home || Guest Book || Submit URL || Tips & Tricks || Essentials || Ingredients || Spices || Measurements || Awards || Readers Corner|| Links || Vote ||